William (Jock) Liddle
This post is a difficult one as Jock was a great friend and a ex Voyager crew.
It is with deep sadness posting this information for a shipmate who finally succumbed to Cancer after several years of a long and hard fought battle.
Jock crossed the bar this morning (12th June 2013 at 11:00am) whilst in palliative care in Melbourne hospital aged 74 years young.
Our deepest condolences to Cath (Jocks wife), family and friends over their very sad loss.
Jock, originally from Scotland, Glasgow, joined the RAN on 16th Feb 1957 and remained in for 12 years. DEE was 13th Jan 1969 as a POSTD.
He served in the following HMA Shops and Depots: Cerberus, Sydney, Voyager 2 years July 57 - July 59, Albatross, Melbourne, Penguin, Lonsdale, Derwent, Creswell.
Funeral service details:
Charles Crawford & Sons
Cnr McKenzie & Palmerston Sts.,
Melton  Vic
Tuesday 18th June 2013 - 1:30pm
Private cremation following service
Viet Vets arranging service
Medals are requested to be worn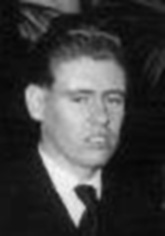 May your final Voyage to God's Kingdom be with smooth seas and fair winds shipmate.
I recently asked Jock along with Jim Ellwood to make a presentation of Voyager material and a book I donated to TS Voyager which he did and I do have some photos to post on the website showing the presentation. I am very pleased to know that Jock was delighted to do the presentation and was one of his last functions. 
Les Sheehan
Webmaster
Lest we Forget
Last edited by Admin on Wed 31 Jul 2013, 10:24; edited 1 time in total
Replies from FESR members

Fr. Bill Pearson writes:
Hi Les,

Thank you for passing on the sad news.
I have been praying for the repose of Jock's Soul and for the comfort of
Cath & the family.
May the soul of William 'Rest in Peace'.

Yours Aye.

Fr.  Bill.
=====
Michael & Bev Mullins Write:
Dear Les,
I am sorry to hear of your loss of a good friend and ship mate, Please give his wife our condolences and give her the strength to carry on.
Thank you for letting us know Bev and Mike Mullins
=====

---
Permissions in this forum:
You
cannot
reply to topics in this forum